TikTok is one of the trendy social networks. With more than 800 million active users, the platform is one of the most recommended to make yourself known and become the next influencer. Now, do you have an active profile and you can't get the desired engagement ? In this case, you may be wondering how to get followers on TikTok .
But this is not all, we will also talk about the applications and platforms to buy followers and all the truth behind them. Do they really work or are they a scam?
Are you interested? Read on and find out how to fill your TikTok feed with followers. No tricks, scams or false promises!
How to get followers on TikTok for free: all methods
When we start in any social network, the usual thing is that the first people who follow us are our mother and our aunt. And while we love you and thank you for your support, you want the whole world to see your content .
If you are willing to put in a few hours of work to grow in this app, we will tell you 12 infallible methods to get followers on TikTok organically. Do you want to discover them?
Your profile must be well defined
The first thing that users will see before being your followers on TikTok is your profile. So this has to be complete and give the image you want to show the public. That is, you must put a good quality profile photo and a username that identifies you or the topic you have decided to publish about.
Don't forget the description! Although it is limited to 80 characters, it clearly and concisely explains what your account is about so that future TikTok followers know what they are going to find in it.
Be consistent when posting and keep in mind the time you do it
As in many aspects of life, consistency is key to gaining more followers on TikTok. Keep in mind that their algorithm likes you to post as much as you want. It will always show your clips to a new audience. Therefore, if you have the opportunity, upload content more than once a day.
In case it is not possible for you, we recommend doing it at least once a day. And don't lose sight of the time you post. Study the statistics and try to upload your clips at the time when more people are online.
Always post quality content that your TikTok followers like
Not by constantly posting you have to neglect the quality of your clips. To get followers on TikTok (and to like what you do),  all your posts have to be of quality. It's not worth posting for posting.
In this sense, you should find your own style , that is, not copy what other TikTokers do. If you only dedicate yourself to following the latest trends, your videos will not stand out and you will publish practically the same as most users.
And it is that one of the big mistakes you can make is not to risk and publish content almost identical to that of the most popular users. It might work for you (and even inspire you), but you're more likely to fail overall. The key to success lies in differentiating yourself from the rest and sharing videos with topics that you are really passionate about.
Let your imagination and creativity fly
Without a doubt, quality is also related to creativity and the ability to innovate . Repetitive content ends up tiring the audience and can lead to a drain of followers over time. Therefore, it is extremely important to do something new and unique from time to time to see the reaction of your followers.
Don't be afraid to show yourself as you are. Take the opportunity to let your imagination fly and create really special content. Try to be spontaneous, have fun while recording yourself, and be comfortable with what you're doing . Only then will you have more interaction and your number of followers on TikTok will start to rise like foam.
Use all the methods that the platform puts at your fingertips to get followers on TikTok
If it's about being creative, this social network makes it easy for you thanks to all the methods it offers on its platform. Use the most popular hashtags related to your content, participate in challenges and try to see the statistics on a recurring basis .
Also, try the new filters and effects that the app brings out. The platform wants everyone to know about its news and use it. That is why it rewards those who start using them, giving them more visibility and appearing on the "For you" page of more people.
Create your own challenges or hashtags
Do you not identify with the challenges or hashtags that move on this network or do they not stick anything to your content? Create your own!
Apart from promoting creativity, there are surely more people like you who identify more with the challenges and hashtags you have created. They will start using them giving you more visibility!
In addition, this will help you create your own unique personal brand , which will make you stand out without a doubt.
Interact within the social network
One of the goals of social media is for people to interact with each other. In the same way that you want to be liked, shared and followed, the rest of the people on the network want the same.
So don't just upload your posts: engage with the posts you really like. You will not only be creating a community, but it will make other people see your interactions, that they know you. And, if they like you, they will start to be your followers on TIkTok.
Collaborate with people related to your content, so that their followers become your TikTok followers
Going a step further in creating a community, another good way to gain more followers on TikTok is to collaborate with profiles related to your content . You can do direct together, duos or any type of publication that both parties like.
With this you are making yourself known to that person's public, and vice versa. This will increase your followers! And by the way, you are helping that person's too.
Use cross-promotion from other social networks
It is very likely that this platform is the last social network you have opened, and that you are also using Facebook, Instagram, Twitter or YouTube. And surely you have more followers on these social networks than on TikTok as it takes longer.
Take the opportunity to promote yourself in them! Share your posts on other networks and tell your followers to follow you on them so they can see all the good things you have to offer.
Go to the "For you" section and learn from the people who are shown there
Although this is not always the case, the accounts of the most influential people, with the most followers and likes , usually appear in the "For you" section . What are these people doing? Why have they managed to have so much influence?
Try asking yourself all these questions and take the answers that fit your content to start applying them to your profile.
learn all you can
Do you want to specialize in a specific niche? This is highly recommended, because it also helps you see more clearly who your target audience is.
If you start posting content within a niche market, one of the important things to continuously gain followers on TikTok is to never stop learning .
It doesn't matter what you're talking about: photography, macramé, recipes, birds… The important thing is that your audience learns with you.
Earn followers using TikTok Ads ads
A novelty that is available in Spain from the beginning of July 2022 is the TikTok Ads platform to advertise. It is more focused on those who use it as part of their content marketing strategy for their project, enterprise or company.
Using TikTok Ads your content will have more reach and will be specifically oriented to the target audience that you have defined. And this will make you get more followers. As data, comment that the prices to advertise on it are higher than on other networks. Currently there are two options to be able to publish ads in Spain:
Ads by bids:

 The cost depends on your choice: CPC (cost per click), CPV (cost per view) or CPM (cost per thousands). With this option, you will appear in the "For You" section of your target.

Through a representative:

 This option is more expensive and focuses on already established brands.
Use video apps to make the best TikToks
Although the TikTok app includes different options to add effects and filters to the posts, it is highly recommended to use other software or apps to edit the videos . These tools contain a variety of easy-to-use options.
With them you can put visual effects on the videos (cloning, ghosting, warping…), improve the color and sharpness of the image, add voices and sounds, use default templates or give a more professional touch, among many other things.
Some of the most prominent video apps are Moovly, Video Star, Triller, InShot or KineMaster . For more options, we suggest you try a video editor from our selection on your Android or iOS .
Publish your content at the magic hours
If you remember, we talked earlier about the importance of posting more than once a day. But it is not worth doing it at any time; you must post in the magic hours of TikTok . This is the period between 11 in the morning and 5 in the afternoon , hours with the highest number of users using the app.
However, this range may vary depending on the profile of your followers . That is why it is essential that you do an exhaustive analysis of your account to see when there are more users connected. You can also try the option of posting at different times and compare the interaction you generate at each moment.
The results of this analysis will serve as the basis for designing a publication calendar and, in this way, avoid the hours with less audience.
Follow and unfollow the most popular TikTokers
One of the easiest and most foolproof methods to gain followers on TikTok is to follow and unfollow the most influential TikTokers on the social network . With this simple action you will get the attention of these users so that they visit your profile and start following your account.
Now, it is not about following and unfollowing any famous TikToker with millions of followers. Look for those profiles that best fit your niche . In the first attempts you are likely to go unnoticed. But if you insist and repeat the action a few times, you will end up getting noticed. If one of these users enters your profile and likes what he sees, he will surely follow you.
App to get followers on TikTok: everything you need to know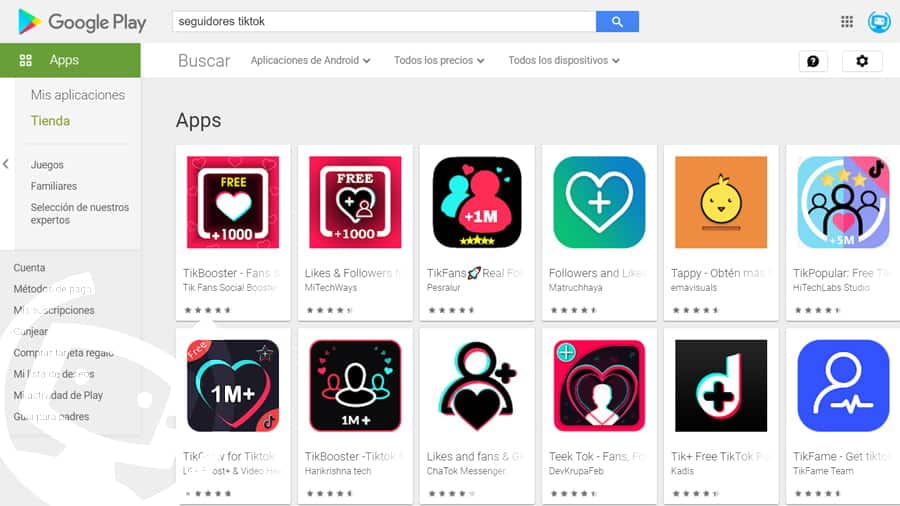 After having seen all the organic methods that you can use to get followers, let's talk about applications.
If you have ever searched the Internet or the Play Store, you will know that there are other methods to get followers: applications. No social network is spared. You will find so many apps for Instagram that get followers , for YouTube, and of course, also for TikTok.
With a little walk in the Play Store, you will discover more than one application , free or very cheap, that promises what you are looking for: get more followers and likes . But when we read the reviews, surprise!
In most apps of this type, users comment that for the app to work it is necessary to leave a 5-star review of at least 500 characters on the Play Store. And after doing so, how do these apps work? Although each one is different, in general you have to like and comment on other people's clips. In exchange, you receive coins that you can redeem for followers for yourself.
Quantity yes, but not quality
So, do they serve to get followers on TikTok? The answer, in objective terms, is that yes, you will get more followers. But at what price? (And we are not talking about the economic value).
At first this may sound tempting, but keep in mind that your new TikTok followers are not interested in your content. And for this reason, they will not have interaction with him, causing your engagement to decrease.
unreliable applications
In addition to the above, you are compromising your privacy . By downloading and installing these third-party apps on your mobile you are accepting the "terms of use" (yes, those that we never read and that we should start doing). With this you are giving permission to the application to access your phone and your personal data.
And what do these applications do with the data? Where do they store them or what do they use them for? The truth is that there is not much transparency in that. Hence, we have to be especially careful when downloading unofficial third-party apps.
As additional information, when Google reviews the Play Store, it usually eliminates this type of application. It must be for a reason, don't you think?
So, from your apppara.com, our recommendation is clear. The best way to get followers on TikTok (and have them stay loyal) is honestly and organically. We do not recommend using these apps to gain followers on TikTok or other networks.
Some of the ones you can find in app stores are (with their variants):
Buy followers on TikTok: everything you need to know
We mentioned the applications to get free followers, but we cannot forget those that offer us to buy them at a reasonable price. Nowadays, it is possible to buy almost anything you want for any platform.
Buy reviews for your Airbnb experiences? Done. Do you want to have more likes on Instagram? Of course. Positive reviews on Amazon? The ones you want. Buy followers for TikTok? Of course, here they are.
And although buying followers on social networks is a fairly common practice, what implications does it bring? Is it really convenient and benefits us? We are going to see one by one some of the points to take into account before hitting the buy button.
Many of the purchased TikTok followers are usually bots
Although there is currently no 100% evidence that purchased followers are bots, a study carried out by The Digital Forensic Research Lab leads us to question the veracity of the followers of these applications.
In most cases, these are profiles that have an alphanumeric name, no profile picture, and do not post any content. All this indicates that these are not real accounts.
Your privacy may be compromised
As we mentioned in the previous section, when downloading any of these applications we are giving them permission to access our phone. And that allows them to see our personal data, without knowing where they store it or what they use it for.
These apps to buy followers on TikTok do not deliver what they promise
We have seen that some of these apps ask you to leave a 5-star review, others to like content to accumulate points, or to see a large number of advertisements. All this with the promise that in the end you will get what you have asked for.
But the truth is that sometimes, even following the indicated steps, they do not fulfill what they promise. They do not offer those followers in exchange, while they earn money with all the advertising that is in the app.
You will not have 
engagement
Whether the followers are bots or real people, the engagement of your posts will change ( decrease to be more precise). Your new followers are not following you because they really like your content and feel identified with it. This is not good for you.
For example, imagine that you have created an account to show your crafts, that people know your work and acquire them. Purchased followers do not care about this, so you will not be compensated for the work you are doing.
Your account will be penalized
The algorithm does not like content that has very low engagement . As a consequence, it will stop showing your posts on the "For you" page. After that, your organic reach will go down and your posts will have fewer views from people who are really interested in your account and your work.
As a consequence, not only will it be difficult for you to get more followers on TikTok, but you may start losing the ones you already have.
loss of reputation
The consequence of all this is that you will lose reputation. As the saying goes, "a liar is caught sooner than a lame man". And in social networks it works the same.
If you are trying to make a living through this platform, or you are using it within your content marketing strategy, the purchase of this type of service will end up taking its toll on you. You will lose the reputation you have achieved and new opportunities with future clients.
If you have been informed of everything that buying followers for TikTok means and you have still decided to do it , we will give you a series of recommendations to make the most of your purchase:
Do not lose sight that 

engagement 

is

 more important

 than other numbers. Therefore, when buying followers we also advise you to buy likes, with an approximate amount of 40% likes per followers purchased.

When you buy followers, do it with the option 

that they enter your account "by drip". 

Suddenly having 5,000 new subscribers is an unusual activity that the algorithm penalizes. Space them out in time.

Never buy TikTok followers from 

apps that ask for your login details (password)

 .
Gain followers on TikTok: all your doubts solved
From how many followers do you earn money on TikTok?
TikTok starts paying from 1,500 followers . You can make money on TikTok by streaming, sponsoring, selling your own products or services, partnering with brands, or affiliate marketing.
The only condition to benefit from TikTok payments is to be over 16 years old . Also, you must be at least 18 years old to sign a collaboration contract with a brand.
Is it worth buying followers on TikTok?
Yes and no. Everything will depend on your activity on the network and if you have a good marketing plan. On the one hand, buying followers can help you gain popularity . And it is that a profile with 50,000 followers will always be more attractive than one with 500.
Now, if your content is of poor quality and you post very infrequently, we do not recommend buying followers. Both your profile and the number of followers can raise suspicion and will make your image look damaged.
Likewise, it should be remembered that many of the applications to buy followers do not fulfill what they promise and will only bring you problems. Many of them violate your privacy and give you unreal followers.
How to go viral on TikTok?
Currently, one of the most effective ways to become famous on TikTok is through viral challenges . In them you ask your followers to record themselves dancing or singing a song (or whatever you want), with the aim of being mentioned in the video and other users getting to know you.
But this is not all. You can also go viral by collaborating with influencers, going live, advertising with TikTok Ads or uploading your best videos on YouTube. 
What hashtags to use on TikTok?
Just like on Instagram or Twitter, on TikTok hashtags are also essential to gain followers and have more interaction in the community. In this sense, it is important that you follow a good strategy and use specific hashtags for your niche and target audience.
On the other hand, the use of the most popular hashtags will also help you. Some like #tiktok, #musically, #instagood or #tiktokmemes are among the Top 30 of the community. However, these alone will not be enough to gain popularity . Add hashtags related to your content and your niche and additionally use some popular tag.
How to get 1,000 followers on TikTok?
The best way to reach 1,000 followers on TikTok is by using each of the tips in this article. While it is true that you can also buy followers, it is always a better option to do it organically . This guarantees you to have real followers and with greater interaction within your profile.