Businesses today get information from many sources, such as websites, traditional media, newspapers, chats, podcasts, videos, etc. Using valuable data from a variety of sources allows companies to make insightful and profitable judgments. The method of collecting important insights from data from different sources is known as data mining, and the tools used to do so are known as data mining tools. 
Data mining can be a tedious task, as any organization will seek to perform insightful evaluation and in-depth analysis of the data captured. Therefore, the data collection tools were designed to simplify data extraction. You can make effective analytical assumptions on a variety of topics using the right data mining tool.
This article will serve as a guide to provide you with information about the data extraction procedure, its types and its advantages. Also, we will talk about the top 10 web scraping tools in 2022 .
What is data mining?
Introduction
Data mining is the process of gathering information from various sources for better visualization and interpretation, extracting insightful corporate data, and storing it in a centralized data warehouse. Unstructured, semi-structured or structured information can be obtained from various sources. In short, data mining is a way of getting data from one source and transmitting it to another, be it on-premises, in the cloud, or a combination of both.
To do this, various strategies are used, some of which are complicated and often involve manual input. Extract, transform, and load, or ETL, is usually the initial phase, unless the information is retrieved for archival purposes only. This indicates that after the primary collection, the information always remains  suitable for later review through  further transformation.
Why is data mining needed?
 The reasons why data extractions are needed consist of the following three points.
save data to a file for safe long-term storage

take advantage of the data in different environments or different conditions, for example, when some changes occur in the domain or business, etc.

make the data accessible for later phases of the evaluation.
Benefits of using data mining
1. Data extraction tools significantly improve the accuracy of data transfer as they are mostly used without human intervention, minimizing bias and errors, thus increasing data fineness.
2. "What is the data that needs to be extracted" is mainly determined by the data extraction tools. This is done while pulling data from many sources, as the tools correctly identify the data needed precisely for the next action and leave the rest for future transfers.
3. Data extraction tools allow organizations to choose the size of data collection they want. They help you avoid manually paging through different sources for information, and they also allow you to choose how much data is collected and for what purpose.
Types of data extraction
Now that we have a basic understanding of how data mining works, let's talk about data mining strategies that are widely used in the market. The two main data extraction techniques are logical and physical, which can be divided into many types.
1. Logical data extraction
The data extraction type is most commonly used. It can be divided into two subtypes:
●  Full 

Extraction 

_
This process appears frequently during the beginning of the load. Therefore, all data is simply pulled from the source once. Since this extraction captures all information currently accessible on the source system, there is no need to keep track of progress after a successful extraction.
●   
Incremental 
Extraction 
_ 
_ 
_ 
_
Delta changes in the   data are the focus of this technique. You must first apply complex extraction algorithms to data sources and keep track of data updates as data scientists . Revised data extraction timestamps are collected using this technique.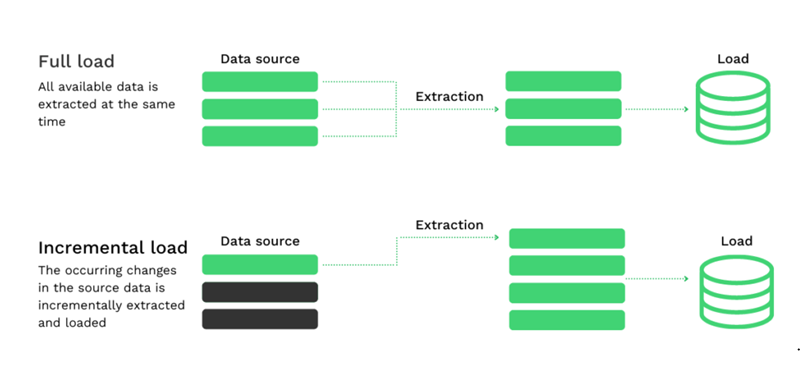 2.Physical data extraction
Logical extraction can be difficult to use when trying to extract data from expired data storage systems. These data can only be obtained through physical extractions. It is divided into two categories.
●  
Online extraction
You can directly extract the source data to the data warehouse using this technique. This method requires a direct link between the source system and the extraction tools to work. You can add it to the staging system, which is a clone almost the same as the source system but with better data organization, instead of connecting directly to the source.
●  
Offline extraction
Instead of being retrieved directly, the data from the original source is processed outside of the original source using this method. In this procedure, data is organized or structured using data mining techniques. A flat file, a dump file or a remote extraction of the database transaction logs are some of the file structures it incorporates.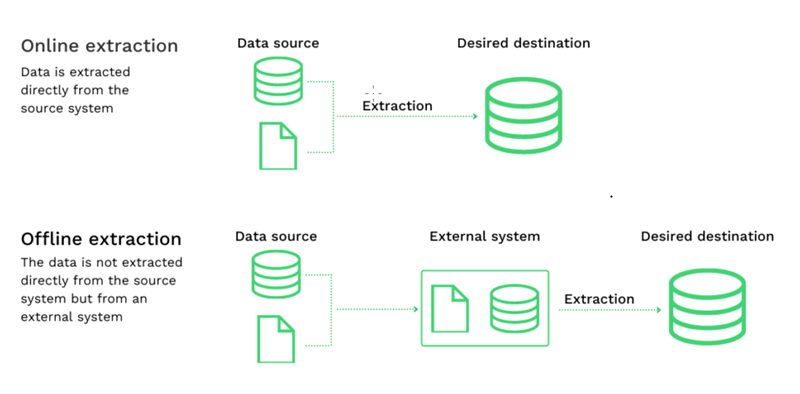 10 Best Data Extraction Tools in 2022
There is a wide variety of data mining tools that can be used to collect and monitor information about promotions. Some are designed for particular industries, while some focus on challenges facing advertisers, and others have much broader use.
We have listed below some of the best data extraction tools with description and features to help you decide which one is best for you.
octopus
Octoparse  is a robust web scraper that is available and efficient for both Mac and Windows users. The entire scraping operation is really simple and straightforward as it mimics the actions of humans.
With its distinctive built-in project templates, Octoparse makes starting web scraping simple for  novice users . Furthermore, it provides  free unlimited crawls, Regex and Xpath tools to help users solve 80% of data discrepancy problems , even while scraping  dynamic  web pages.
Characteristic
It is a cloud-based web scraper that allows you to retrieve data online quickly and efficiently without programming. 

Organizations can select from the Free, Standard, Professional and Enterprise options offered by Octoparse

It offers built-in templates for websites like Twitter, YouTube, etc.
scrape.do
Using Scrape.do 's rotating proxies   for web scraping is extremely easy and fast. All features are customizable and easy to use.
You can use proxies to access the target website and extract whatever raw data you need by sending parameters like URL, headers and body to the Scrape.do API. The destination URL will get all the request parameters you provide to Scrape.do without modification.
Characteristics _
An API endpoint is everything Scrape.do provides.

It is one of the most affordable web scraping solutions available.

All subscriptions include unlimited bandwidth.
ParseHub
For the purpose of collecting data from the internet, ParseHub  is a free web scraping application. Desktop software is available for download. It offers more functionality than most other scrapers, both the ability to scrape and download files and photos as well as CSV and JSON files. It offers free plan, however, paid plans include premium features.
Features _
You can use the cloud service to store data automatically.

You can get information from maps and tables.

Accept scrolling of infinite pages.
diffbot
Another tool for extracting data from websites is Diffbot . This information collector is among the best content extractors available today. With the Analyze API functionality, you can automatically identify sites and extract items, articles, discussions, videos or photos.
Characteristic
Plans start at $299/month and offer a 14-day free trial.

You can use visual processing to crawl most non-English websites.

Structured search to show only relative results.
Mozenda
Mozenda  is a cloud based web scraper. You can run your own agents using your online portal and agent builder, and you can view and manage the results. Additionally, it allows you to publish or export collected data to cloud storage services like Dropbox, Amazon S3, or Microsoft Azure. On optimized collection servers in Mozenda data centers, data extraction is performed. Therefore, this takes advantage of the user's local resources and prevents IP addresses from being banned.
Characteristic
You can manage your proxy and data collection without manually logging in to the Web Console.

Free, Professional, Enterprise and High Capacity are the 4 plans that Mozenda offers.
DocParser
DocParser  is one of the best document parsers. Data can be extracted from PDF files and exported to Excel, JSON, etc. Transform data from inaccessible formats into usable representations, such as Excel sheets. Using anchor keywords, a powerful identification model, and area OCR technology, DocParser recognizes and extracts data from Word, PDF, and image-based documents.
Characteristic
It has 5 plans available: Free, Starter, Professional, Business and Company.

Extract the necessary information and download spreadsheet and incorporate it with your accounting system.
BirdsAPI
To extract structured data from Google Search, developers and agencies can use the SERP API (Search Engine Results Page) service called AvesAPI .
With the help of its intelligent dynamic network, this web scraper can easily extract millions of keywords. That means leaving the time-consuming task of manually sifting through SERP results and bypassing CAPTCHA.
Characteristic
Real-time access to structured data in JSON or HTML.

You can try this tool for free. Also, the paid plans are quite affordable.
Hevo Data
You can duplicate content from any data source with Hevo Data , a no-code data pipeline. Without coding a single line of code, Hevo enhances the data, converts it to an evaluation format, and transfers the data to the appropriate data store. Data is managed securely, reliably, and without data loss due to its fault-tolerant architecture. 
Characteristic
You can use logical dashboards showing each channel and data flow statistics to track channel health.

It has three plans: starter, free, and business.  
ScrapingBee
Another well known data extraction tool is ScrapingBee . It renders your website as if it were a real browser, allowing you to use the latest version of Chrome to handle dozens of headless instances. Consequently, they claim that dealing with headless browsers like other online trackers would be time consuming and would consume CPU and RAM.
Characteristic
Offers unrestricted general webscraping operations such as real estate scraping, price monitoring, and comment extraction

You can extract web pages from search results.

Plans start at $29/m.
Scrappy
Scrapy  is another tool on our list of the best web data extraction tools. It is an interactive and transparent platform to collect web page data. For Python programmers trying to create cross-platform web crawlers, it offers a framework for web scraping.
Characteristic
It can be easily expanded without modifying the kernel because it is designed to be extensible.

It is completely free.
conclusion
The best and most loved data extraction tools available today, which can be used to streamline the extraction process, has been thoroughly discussed in this article. Additionally, some features and prices of these tools have been highlighted. Selecting the right data extraction tool is an important aspect of the overall data extraction process in any business.